Before I begin, for those who might be wondering... no, this isn't an old school haunting as in "wow, that's old school versus something seen in the Paranormal movies. No rap involved, no traditional classics. This involves a school house, an old one.
...
While scouring the web, I came upon a mention of Crivitz' old school house being haunted. That's it, that's all that was said. The subject was "Old School House", location as Crivitz, and the status as being haunted.
Not much to go on.
Tried to find further information, haven't found
anything
. So yesterday I decided to go past the place, see what I could see; take some preliminary photographs, do an EMF sweep, maybe a quick EVP recording or two.
The actual address of the old school was given as N 104 South Street, and a quick google maps search placed it east of Highway 141; South Street intersects the highway right by McDonald's, for those familiar with the area. Grabbed my youngest child and we headed out.
Turns out there is no 104 on that side of the highway. There are three houses with numbers, and then it goes from home numbers to fire markers. Drove down this small stretch of road three times just to double check. Crossed the highway and continued on South Street to find out that the Crivitz Museum (of such a thing can even be said about this place) is the address identified. Sure enough, there's a small log cabin-like building located on the property.
Initial inspection wasn't too promising. First off, the museum is "closed for the season", according to the sign tacked on the door. Doesn't say what the season is, when they open, what the hours are... anything of importance. **A google search later that evening gave me the information: Memorial Day through Labor Day, Monday through Saturday noon to 4p, closed on Sunday. A different site says Wednesday through Saturday.**
Secondly, as can be seen within this picture, it doesn't seem as if this structure was maintained properly. I've only the front shot, but will describe the rest of it in detail with an additional post.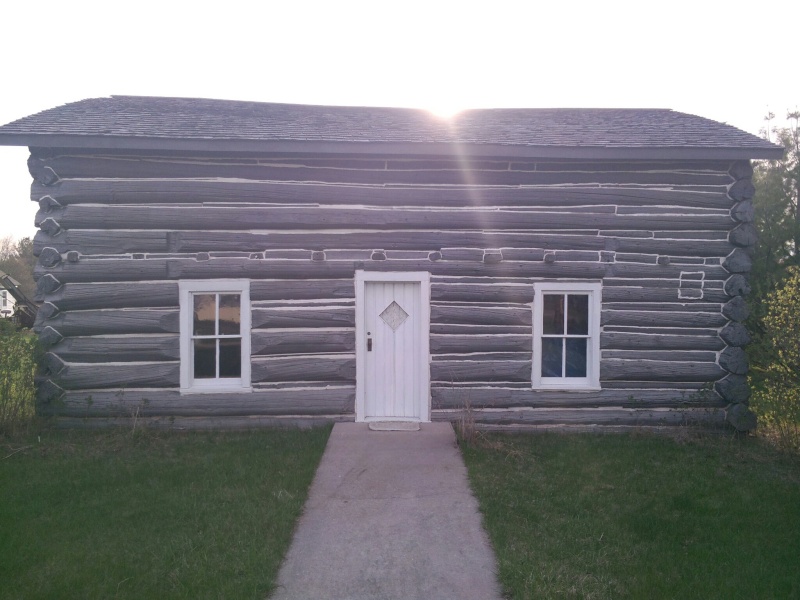 Doesn't really seem to be authentic, does it? The school sits on a concrete slab, there's a service door on the loft level (it would be on the left side, if looking at the photo), there's another service door opposite the front as you can see, and windows where there ought not to be. It seems as if there had been some renovation, that this was altered to become a home or cabin; I really won't know more until I'm actually able to get inside.
Although, now that I think about it, nothing that I've read (if you can call it that) actually says that this was a haunted school house. It just says that the old school house is haunted. Could be that the hauntings took place after the conversion. Either way, I still wouldn't be able to find out until after the place opens. I'll have to remember to ask if the building had been moved / where was it originally located, if there is any history behind the building, and if they (the curator) has heard of the supposed haunting.
Also, the more I look at it, the less this even looks like a school house. It
is
a freaking log cabin... unless, because of the logging industry, they built it with the material on hand. Again, will have to find out. There is a smaller structure on the property; I'll have to go past it on my way home from work and snap a picture or two, peek through the windows.