Date of Incident:  July 24 2015
Original Report
Quote :

Upon editing photos, discovered the attached object.  Several attachments included:

RAW image from SD card, edited photo for clarity, and Google Maps imagery/info for location.
Pictures included with original report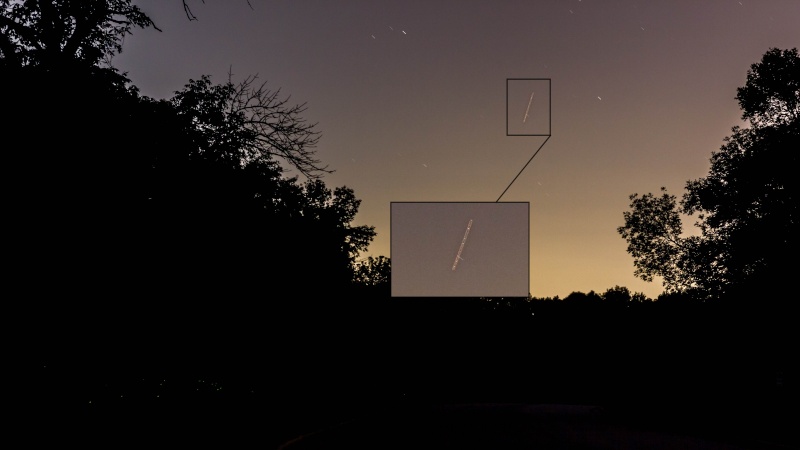 Investigator's Report
BGE Results:  Total Certainty Index is 5.49%
LONGITUDE/LATITUDE:  (42.925086, -88.018154)
SYNOPSIS:  anomalous light display caught on camera
OBJECT DESCRIPTION:  blinking light corralled by two straight lines
INTERVIEW/STATEMENTS:  none
NATURAL/MANMADE PHENOMENON:  determined to be man made through analysis
WEATHER INFORMATION:  roughly 75* at time of image, with a dew point around 64*; winds from the south at roughly 4 MPH; partly cloudy with visibility at 7.5 miles
LOCATION:  Root River Parkway, Whitnall Park, Greendale WI
EVIDENCE/INVESTIGATION:  two digital images, one of which maintained RAW data
WITNESS CREDIBILITY:  witness did not lead to a preconceived conclusion, presented material in a straight forward manner; this investigator believes the witness to be highly credible.
CORRELATING CASES:  unknown at this time
INVESTIGATOR'S REPORT:  
         On the morning of July 27 2015, I was assigned case number 68625, which included two digital images, one of which maintained the original RAW data.  The RAW image verified that the image was captured over a 30 second delay.  In reviewing the image, I reasoned that the anomaly could not be a satellite or meteor, as the trail would have been longer and more narrow; furthermore, upon closer examination, the trail seems to be superimposed over a star, which would place the object within the atmosphere.
         Taking the information on hand, I first checked Google Images for "digital long exposure airplane", in keeping with the wording of the original report and my own presumption; many of the image results shared a similar appearance.  This, coupled with the knowledge that the General Mitchell International Airport lies roughly five miles east of were the image was taken, leads this investigator to believe that the original image shows an airplane in flight, and that no further investigation is required.
         While the was no contact initiated with the witness and little in the way of additional information was provided, the information quality is rated at 60%, with a reliability of 32 and a strangeness factor of 28.57 (anomalous and technical recording), putting the BG evaluation rating at 5.49